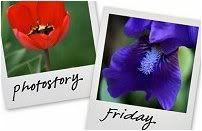 Hosted by Cecily and MamaGeek
"Intro to COR Racing"
Last Saturday I spent the day with the bf and his friend The Photographer. We drove out east a ways, parked in a large field, and then stood in line to take a charter bus over to the stadium. Why would I do such a thing, you might ask. Well, because it was COR Racing day. It stands for Championship Off Road Racing. The bf is big into going out to the desert with quads and buggies and stuff, and LOVES this sort of thing. I'll admit, with all the drama of the past 2 weeks, I didn't want to go. I got sunburned and REALLY dirty (note: OFF ROAD means there is LOTS of dirt, everywhere, flying at you, getting into absolutely everything) But you know what? I'm glad I went, because it was fun! What got me there was that it was important to him, but I ended up having a great time, dirt sunburn and all. What is COR Racing you might wonder? Just look below.
Yes, those trucks got AIR coming off of some of those jumps. Yes, some people flipped over. Yes there was a fire. Yes, I absolutely forbid the bf to drive in these things EVER. (we compromised that he could own one, but someone else would have to drive it) Yes I turned and simply shook my head no at him during the 8 year old races and 12 year old races, where kids were driving crazy mini truck buggy things and running into each other and turning on their sides. He knows that no child of mine will ever be doing such a thing, I don't care how much he argues that "they're surrounded by metal". Yes he understood that it was non-negotiable.
But really? I loved it. It was a lot of fun, and I wouldn't be sad to go again sometime.
(also, I actually cropped and edited this photo! I rarely edit any of them...I'm working on that)
--------------------------------------------
Side note and entirely unrelated: I got Twitter. Mostly just so nobody else could have my username. I'm debating whether to take the plunge and use it or not. So far I just have the username. I'm slightly afraid that I'll be completely sucked in if I start.
--------------------------------------------
Today's post brought to you by the lovely ladies below. Come play PSF with us next week, it's tons of fun!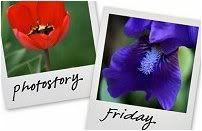 Hosted by Cecily and MamaGeek