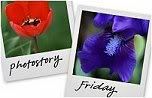 Hosted by Cecily and MamaGeek
Last Saturday found me driving up to Famous Dave's with the bf and his parents for lunch. It was absolutely delicious, even though the drive was a bit rainy. On the way home, we saw this beautiful double rainbow. Luckily, I remembered that my camera was tucked inside my purse for precisely such an occasion.
Today's post inspired by the lovely ladies below. Check it out and play along!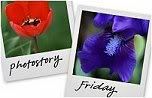 Hosted by Cecily and MamaGeek