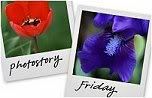 Hosted by Cecily and MamaGeek
As promised, here's a picture of the beautiful new bookcase the bf built for me last weekend. I got my books up on it before I remembered to take a picture, but I decided you can see it better with the books and dvds on it. Right? I absolutely love this thing, the bf did SUCH a great job.

The picture would have been up sooner, but I've been in bed all week trying to rest away a virus. It finally worked and I'm back to work today. I have to say, the only good part about being home sick for three days is that I am finished with the Twilight Saga. I finished
Breaking Dawn
yesterday afternoon. I have to say I am thrilled with the ending, it was perfect. If you haven't read the books, I highly recommend them. They'll keep you reading late into the night, they're captivating, she did a great job with the writing. Very powerful and passionate, truly gripping.
I hope you have a wonderful three-day weekend!
Today's post inspired by the lovely ladies below. Visit the link to play along!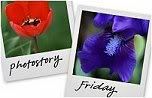 Hosted by Cecily and MamaGeek