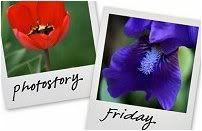 Hosted by
Cecily
and
MamaGeek
Actually, I think she was singing
Heartbreaker
in this photo. But either way, she is amazing! I snapped this shot while dancing and singing at a Pat Benatar concert with one of my best friends. It reminds of the perfect end to an amazing day with my friend B, volunteering and serving. It was absolutely incredible. We'd gotten up at 4:45 that morning, but by the time we got into the swing of things, it didn't matter that we'd gotten only a few precious hours of sleep. We were making sandwiches and handing out medals and cheering on the amazing people running the marathon with Team in Training to raise money for cancer research. It was perfect.
Today's post brought to you courtesy of the lovely ladies listed below:
Try it out if you need a posting idea on Fridays, it's super fun!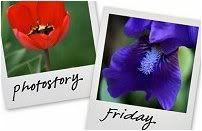 Hosted by Cecily and MamaGeek