3 guys. 3 8" pumpkin pies. 1 can of whipped cream. Full office of spectators.
The prize:
Came to $20.
The title: 2009 First Annual Inter-departmental Pumpkin Pie Eating Championship Contest
The progress:
The winner:
$20 at the price of a small stomach ache. He even ended his pie with a squirt of whipped cream straight into his mouth. Interestingly enough, all three guys were hungry a few hours later.
The inner happenings at an IT Help Desk when we have way too much pumpkin pie in the office.
Welcome to my world.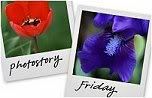 Hosted by Cecily and MamaGeek