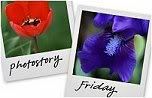 Hosted by Cecily and MamaGeek
I know I've been rather scarce of late, but I have an excellent reason. (aside from just being way too busy for my own good) I've started taking Wilton cake decorating classes at our local Michaels. I've always wanted to do this, and with classes 50% off this month I just could pass it up. Here is my first cake that we did in class on Wednesday.
I brought it to work on Thursday and it was devoured rather quickly. It was a white cake with strawberry pie filling and extra almondy flavored frosting. And I do mean extra almond. See, that can happen when a certain girl (me) misreads a recipe. Teaspoon and tablespoon are two very different measurements, in case you were wondering. It still tasted delicious, just extra almondy. Almond extract reminds me of Christmas, so I love the flavor and scent. Here's a picture of the filling before I layered the cake.
I was up till 12:30 icing this and getting all my class buttercream prepped, but it was so much fun! The next day we found out that one of our guys was leaving today because he got a job to pen a screenplay for a major motion picture. Totally random, but really exciting. I immediately decided I wanted to practice my new cake skills. I knew I wanted to do a film reel and found some great ideas online. I was thinking about a few other things, and the bf suggested a screenplay sheet cake. It all turned out really well. I came home from class around 8:30 and worked until about 2 am. I finished everything up last night and got to bed by about 11:30. Later than planned but much earlier than the previous nights. (I'm still in need of sleep though)
The screenplay turned out pretty well...that was the first one they cut into. Dave was very surprised and very thankful that I'd taken the time to do this. The bf helped me carry them over to their office. They were all really excited to see two cakes. The film reel is still my favorite, I'm thrilled with how it came out.
Both cakes are devil's food with colored vanilla icing. The black circles on the film reel are colored chocolate icing (started as vanilla). The "film" is fruit-by-the-foot. I got the idea to use that from one of the websites I found when looking for ideas to help me out. The best part is that I made both cakes using just the things that we have learned in our first two classes. Everyone really enjoyed them, both visually and tastily. (shut up, I'm tired and allowed to make up words if I want) And Dave was really excited, which was the best part. I would really love to design and make cakes as a business someday, and I already have people at work commenting about it. So much fun, I'm so glad I finally decided to do this. I will definitely post more pictures as I make more cakes! I'm slowly building a portfolio. Three cakes already in about as many days. I'm ready for a good long nap!
Today's Photostory Friday brought to you with inspiration from the lovely ladies below. Check it out and play along!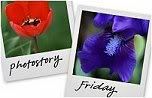 Hosted by Cecily and MamaGeek