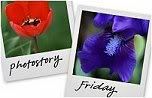 Hosted by Cecily and MamaGeek
This is one of the photos taken on the retreat I went on a couple weeks ago. It was inspired by a friend's photo of the ocean between the slats of a wooden pier. I love the shadows in this one with the tire swing.
I've been remiss in blogging this week, things have just been really busy, and each morning I feel like I've been in a brawl with a tractor...and the tractor keeps winning. I'm planning on an early night tonight so that I have energy for a fun filled weekend. A few hours at Sea World tomorrow, Disneyland on Monday for Bells' birthday. I'm so excited. :)
This post was inspired by the two lovely ladies below. Follow the link to play PSF & join in on the fun!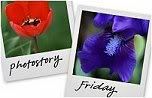 Hosted by Cecily and MamaGeek