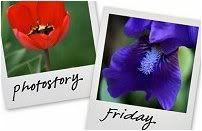 Hosted by Cecily and MamaGeek
Our family used to have FABULOUS 4th of July pool party/bbq's at my uncle's house. The college around the corner had a fireworks show that we could watch from his front yard. They moved out of that house years ago, and the 4th of July has been comparably uneventful ever since.

His two oldest kids, my fabulous cousins, recently moved back into that house-they're renting it from their grandfather, who owns it. We came up with the idea to have an old school family 4th of July party, just like we used to when we were younger, except this time? The kids were in charge. It was fabulous! I handstamped invitations and did the centerpieces and decorations. My cousin A took over the grilling from his dad, and N and I took care of all the other cooking. It was a great party, and everyone really enjoyed themselves. The adults were excited that they could really relax and enjoy, since we kids had it all under control.
This post is inspired by the lovely ladies below, you should check it out and play too!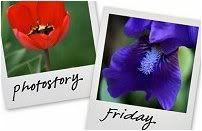 Hosted by Cecily and MamaGeek